Food Safety Focus
What to watch out for when working with starchy foods
Acrylamide is a chemical that forms during a reaction between sugars and amino acids in starchy food, particularly when that food is cooked at high temperatures. Based on scientific studies, it is believed to be carcinogenic – that means, cancer forming – and therefore we should all be aware of its presence and understand what we can do to minimise its production when we cook.
Food handlers and food businesses have a legal responsibility to ensure that the food they produce is safe to eat. Therefore, all food businesses should be aware of and take steps to minimise the production of acrylamide when purchasing, storing, preparing and cooking food, and food handlers should follow any plans that are put in place. The responsibility of food handlers and producers to minimise acrylamide levels is specifically addressed in EU Regulation 2017/2158.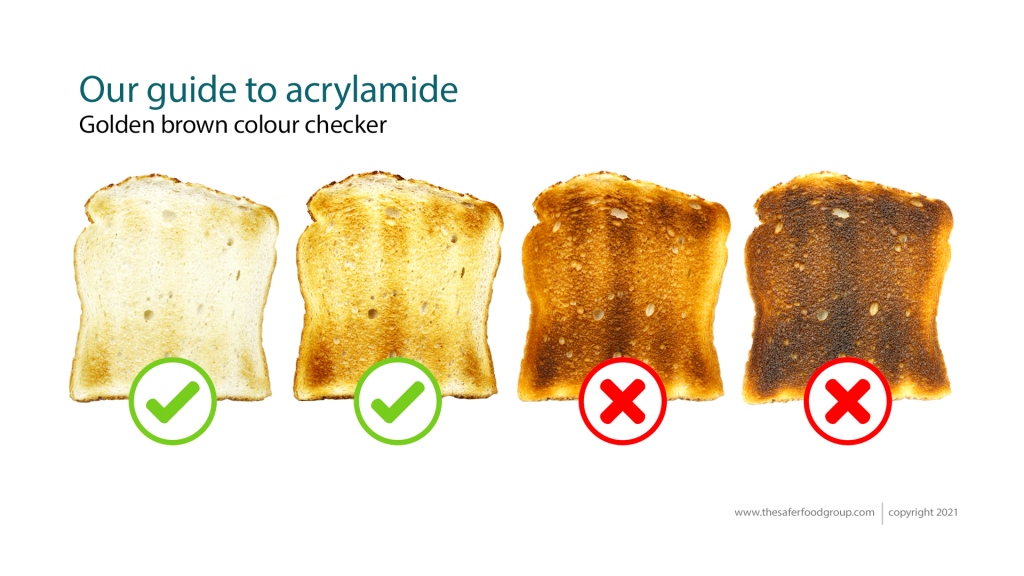 What foods may contain acrylamide?
chips, french fries, other cut, deep fried potato products and sliced potato crisps from fresh potatoes
potato crisps, snacks, crackers and other potato products from potato dough
bread, including loaves, rolls and baguettes, toast and toasted sandwiches
breakfast cereals (excluding porridge)
baked products including cookies, biscuits, rusks, cereal bars, scones, cornets, wafers, crumpets and gingerbread, as well as crackers, crisp breads and bread substitutes
coffee: roast coffee, instant (soluble) coffee, coffee substitutes
baby food and processed cereal-based food intended for infants and young children
What steps should I take to keep food safe in my business?
Understand your legal position – different types and sizes of food business have different legal responsibilities.
Use a reputable published guide to check if any of the foods produced within your business presents an acrylamide risk (links to FSA: SFBB and UK Hospitality guides are below).
If you do produce acrylamide prone foods, use those guides to establish safe ways to produce these, and include this information in your Food Safety Management System (e.g. SFBB or HACCP).
Ensure all relevant staff are trained in these safe production guidelines – make sure any guidance you produce is clear and easily accessible.
Include acrylamide in your regular FSMS review process.
What are safe production methods to reduce production of acrylamide?
The most obvious indicator that a food has been cooked at too high a temperature is its colour – make sure fried, toasted or baked products reach a golden yellow, or lighter colour. Other quick tips include:
Store potatoes in a cool, dark place above a temperature of 6 degrees C, to discourage production of sugars
Always follow manufacturers' instructions on part and pre cooked products
Use cooking oils that perform most effectively at lower temperatures
However, there are many more steps within the purchasing, storage, preparation and cooking processes that you need to follow to stay safe – we recommend you refer to Safer Food, Better Business or your relevant industry guides for more detailed information.