View Demo Chapter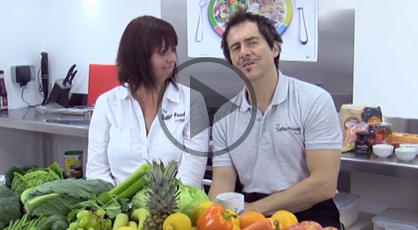 Schools
Nutritional Awareness
Level 2 award
Accredited Level 2 Nutritional Awareness for all those involved in the planning or preparation of food for the school sector. This flexible online video-based course follows the approved UK Nutritional Awareness (Healthier eating & special diets) syllabus, and is filmed on-location in a UK school and commercial kitchen settings.
Fully accredited by QUALIFI, an OFQUAL regulated UK Awarding Organisation, this course provides in-depth awareness of what represents a nutritionally appropriate balanced diet for school age children and young people (5-18yrs). This course is written by a PhD Nutritional Specialist, advisor and author.
Includes FREE unlimited online exam entry leading to a nationally recognised qualification (Endorsed Award) from OFQUAL regulated Awarding Organisation (certificate available as PDF download), and staff progress tracking system with every multiple purchase. (We recommend you compare these benefits carefully with those offered by other providers).
What does it cover?
The training modules included in this course cover the nationally approved syllabus and content for Level 2 Nutritional Awareness - Schools includes the following highlights:
Introduction to Nutrition, important terms and definitions
Fluids - The importance of fluids, defining dehydration, fluids & energy
Energy - Requirements for energy for a range of age groups
Carbohydrates & Fibre- The role of carbohydrates, fate of carbohydrates in the body
Protein - Introduction, human protein requirements, proteins in foods, vegetarians & vegans
Fats - Visible and invisible fats, different types of fat, Omega 3 fats
Micronutrients, Vitamins & Minerals - Vitamins A, B, C & D, minerals, Iron, Calcium, Zinc
Providing a balanced diet - The Eatwell Guide, meat, fish, eggs, beans and other non-dairy sources
of protein, milk and dairy foods
Allergies and intolerances - legal considerations, 14 named allergens, Coeliac Disease, HACCP
The School Food Plan - Practical guidance on what (and how) to provide
Proud suppliers to







Dig a little deeper
Many online courses offered don't have the backbone the nice looking website try make them look like they have. We have added this section to allow you to see what we have behind our awards and how hard we work to give you the highest standard we can possibly achieve.