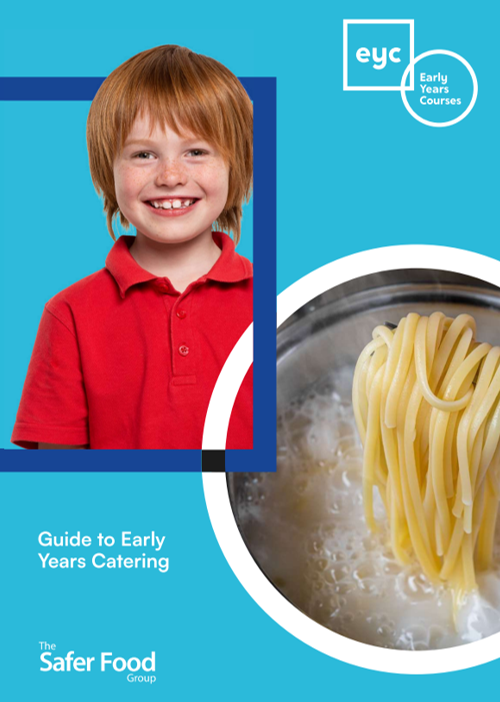 Why is food hygiene and safety important for Early Years practitioners?
It is important to serve safe, hygienic food to everyone – but in early years settings, it is especially important to ensure little bodies are protected and nourished, and immune and digestive systems can develop safely. Having an awareness of food borne illness and how to prevent it is important for anyone who works in early years.
Do I need a food hygiene qualification for childcare?
According to Section 3.48, Framework for the Early Years Foundation Stage, March 2021: "Providers must be confident that those responsible for preparing and handling food are competent to do so. In group provision, all staff involved in preparing and handling food must receive training in food hygiene."
So the simple answer is – if you prepare or handle food, you MUST have received food hygiene training.
What level of food hygiene training do I need for childcare?
This depends on your role – if preparing and serving food is a small part of your role, and someone else is instructing or supervising you, a Level 2 Food Hygiene award should be adequate. If you are running the kitchen, putting processes and plans in place, and supervising others, you might want to look at a Level 3 Food Hygiene award, that gives you some insight into management level skills and a greater background knowledge of food safety.
Where can I get food hygiene training for early years?
If you already work in early years, your employer may have a preferred training provider for food hygiene. If you're looking for a course yourself, you can choose to study a face to face or an online course. Think about what is important to you before you decide – cost, convenience, being able to recap material and study at your pace, or being able to ask questions?
Look for a course that is designed for early years practitioners, especially at Level 2. Courses such as those offered by The Safer Food Group cover specific situations and details that will be relevant in your role.
Also, consider whether you'll need any additional training – do you need to learn about Allergen Management, or Nutrition for your setting, for instance? If so, look for a training provider who can cover all of these subjects – you'll have all your training details held in one place, and you'll build up a comfortable familiarity with the way the courses work.
I want to know more about catering in an early years setting….
Have a look at our free guide – it covers menu planning, food safety, hygiene and allergens, and provides links to some great free resources for early years cooks.
Click here to access our free resource for Early Years caterers