View Demo Chapter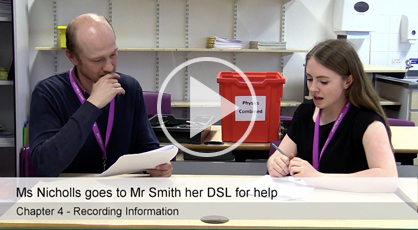 Safeguarding and Child Protection: Children & Young People
(5-18 year olds)
This fully accredited Introduction to Safeguarding Children & Young people course gives you a secure understanding of your responsibilities as a practitioner working or volunteering with children & young people. It briefs you on how to recognise the signs and symptoms of child abuse and neglect and, crucially, takes you through the process of what to do to ensure correct procedures are followed whilst keeping the child at the centre of your concern and practice.


Who is this course for?
Safeguarding is everyone's responsibility. All people working with children or families must be able to demonstrate knowledge and understanding of safeguarding and child protection. This Level 2 Qualification satisfies this need and is suitable for anyone aged over 18 and working or volunteering with children and young people.
No prior knowledge is required to study this introductory level course and it is suitable for all workers - full/part time and paid/unpaid.
What does it cover?
This accredited course includes the following:
Legal Framework for Safeguarding and Child Protection in the UK
How to recognise the signs and symptoms of abuse
How to respond to concerns
How to record any concerns
How to report any concerns
Practical opportunities to put this knowledge into practice in a safe, non-pressured way
Proud suppliers to





Dig a little deeper
Many online courses offered don't have the backbone the nice looking website try make them look like they have. We have added this section to allow you to see what we have behind our awards and how hard we work to give you the highest standard we can possibly achieve.
Frequently Asked Questions
Who is this course for?

Which parts of the UK is this course relevant for?

What will I get at the end of the course?

Is there an exam?

How long do I have to take the course?

What does the course allow me to do?

Can I take the exam more than once?

How long is my certificate valid for?
Our Customers Said
"ALL WE USE NOW"
Our takeaway branches only use this web site now as its a lot cheaper than council courses also more easy allow your staff to do it there own time and comfort.
Being able to mock test is excellent with option to watch videos for the people that don't want to read.
by Dominguez36

"HIGHLY RECOMMEND"
This course was comprehensive, easy to follow and good value for money. Completed the course and gained my certificate easily as did my staff.
by 5footways

"PASSED MY LEVEL 2 FOOD HYGIENE CERTIFICATE"
The course was really good, the videos are very good and the deliberate mistakes are a good idea to make people think! Customer service is also fantastic, I had an issue that was resolved immediately and extremely well. Excellent.
by Elise Cocking

"I REALLY ENJOYED THIS TRAINING"
It was very relevant and easy to understand .The layout was logical and I really liked how it made a big deal of the exam. Reminding you about the exam throughout and asking you to watch for deliberate mistakes made sure you paid attention. The hosts were real enough to not get boring and yet professional enough to make you take note of important aspects of the training.
by Tim Spratt

"GREAT COURSE AND VERY INFORMATIVE"
I was really happy with the course. It was very informative and really allowed me to expand my knowledge. There were diagrams and images that even would assist someone who is alien to the catering industry. It is very clear and highlights the legal framework around the subject area. It also shows appropriate and inappropriate practices. This clarifies previous misconceptions that laymen like myself had. I was overall extremely satisfied and would most certainly recommend the course for people from all walks of life.
by Careygv59

"VERY EASY TO USE"
Last year I put 10 employees through the course and have just signed up another 6. Its a very easy to use course informative and comprehensive.
The employees can work at their own pace and there is a fast track option for more experiences members of staff who have done the course several times before.
Great value for money.
by SarahTaylor18